100% organic cotton

Almost all of our products are made from 100% combed organic cotton

Free shipping from €45

From 45 € we ship free of charge within Germany.
Patrick Owomoyela as Investor and Brand Ambassador
The former German international has also been part of Team Bolzr since December 2016!

"We are very happy that we were able to inspire a great player in German football for our brand. We are very happy that he will not only be our brand ambassador, but will also strategically support our growth and take over the marketing / PR area" (Co-Founder Riccardo Basile in an interview).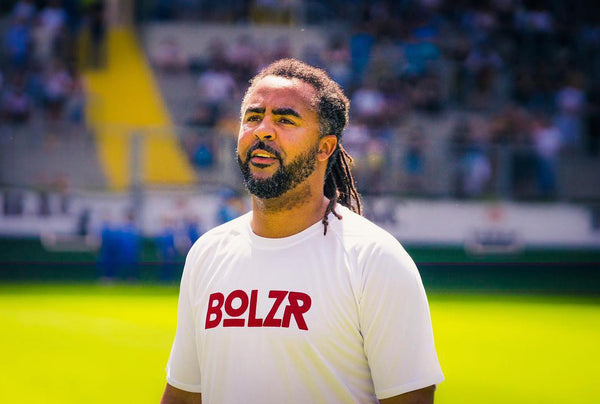 Welcome to the Bolz(e)r!
Football meets streetwear
About BOLZR - The football fans streetwear shop
BOLZR (correct: Bolzer) is the short version of "Bolzplatz"
What does the soccer field mean to you?
For us it is a place that brings the neighborhood and the people together. It wasn't and isn't important whether the playing field and the goal are the right size, whether the pitch was slightly sloping, the crossbar is crooked or the ball was occasionally shot into the neighbor's front yard. What was important was the sense of community that we found here and the cohesion that shared experiences gave us.
And of course the uninhibited joy of the game. Here we could meet friends from the neighborhood or make new contacts and make new friends without having to make an extra appointment and meet up. Never again in our lives have we been able to be so spontaneous and unbound, to enjoy as much freedom and light-heartedness as we did on the soccer field.
Show the world what you're made of and where you're from!
Even if we can't turn back time with Bolzr and can't free you from your deadline pressure and everyday worries, we want to help you not to forget those glory days on the pitch and your roots. Because here we have learned to approach our problems and worries with courage and self-confidence and to solve them with team spirit and cooperation. That is exactly what Bolzr aims to convey. We don't just want to be a pure brand that people recognize. We want to make a statement and convey a message: show the world what you're made of and where you come from! You don't even have to keep kicking the ball or standing on the pitch.
Our products - quality made from 100% organic cotton
Our hoodies, long sleeves, sweaters, t-shirts and accessories are suitable for almost every situation and every trip. Even if you just want to spend a cozy afternoon or evening at home, you can make yourself comfortable with Bolzr. But we also have the right and, above all, stylish piece of clothing for every weather:
In summer and spring, the airy Bolzr T-shirt and Bolzr snapbacks are a must to protect you from the sun. In winter, on the other hand, our Bolzr hoodies, sweaters and hats will keep you warm. Of course, we don't tell you what to wear and when. Just try what you feel like doing. It should be easy for you to find the right thing among our unisex, women's or men's collections in all possible colors and sizes. Whether you want to do sports at the weekend, as casual wear, as streetwear or for the next hiking tour when you have to get out of the city, our high-quality collections are suitable for every occasion.
Pro soccer players like BOLZR
Not only do we swear by the quality of our products, our brand ambassador and investor, the former German national player Patrick Owomoyela, many media personalities, especially from sports television, sports teams and football field enthusiasts carry our brand and our message out into the world.
Take a look around and experience the rich soccer field culture that not only exists in Germany but connects the whole world. No matter which social class you come from, whether rich or poor, young or old, woman or man, sport and Bolzr bring together what belongs together and bring out the best in all of us.